SAVE TIME AND MONEY ON GAS
WITH THE MAITLAND AND ASSOCIATES MOBILE APP
TAX RETURN
Use our mobile application to submit your information and tax documents securely from the comfort of your home.
APPOINTMENT
If you decide you want to stop by our office or schedule a call with one of our tax preparers, simply use the app to set up an appointment.
LIVE CHAT
Have a question or concern, we have you covered all you have to do is use the LiveChat feature on the app.
YOUR DATA SECURITY IS OUR PRIORITY
We know that we work with sensitive taxpayer information. That is why security is at the highest priority of everything we do. Our mobile apps and dashboard include:
Triple Data Encryption
Secure Account Accessibility
24/7 scans, restrictions, and reports
Security monitoring and reporting tool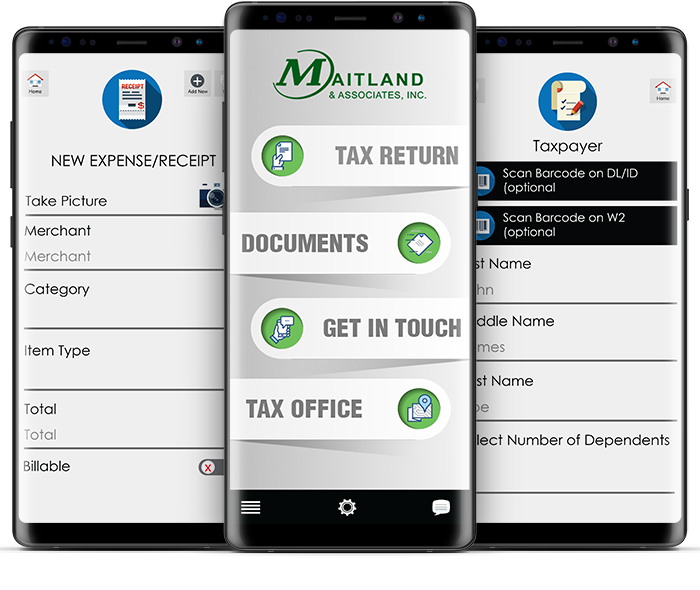 BUSINESS SOLUTION
EVERYTHING YOU NEED FOR YOUR BUSINESS TAXES
Business clients can set up an account to upload, track, store their receipts/expenses, mileage, income, add clients, add products, submit invoices, and much more from the Maitland & Associates Tax App. The best thing about using this service is that we are able to file your taxes using everything you sent so you don't have to worry about locating every document to file your business taxes. You get all of this without losing the expert advice you can trust!
Click Image From Your Mobile Device To Install Our Free App.

INCOME
Easily record, track and save your business income
RECEIPTS/EXPENSES
Never have to ever worry about losing receipts or expense documents again
MILEAGE
Record, store, and track miles traveled for business
EMPLOYEES/CONTRACTORS
Provide staff the benefit of preparing for their tax return
INVOICES
Send customers an invoice for your products/services directly from our app